JAID's revolutionary mirror mount
Perfect for:
Lab Use & OEM assemblies
Available in 1″ (25mm) and 2″ (50mm) sizes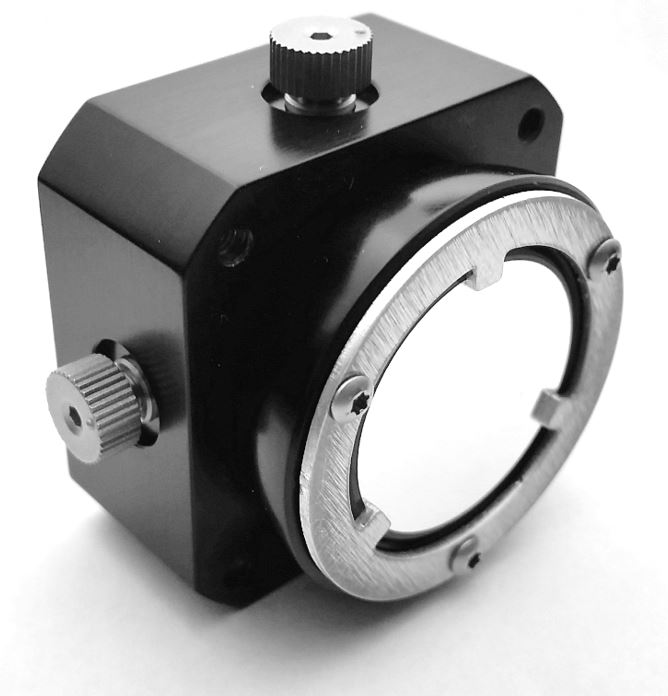 Pivot point centered on optical surface
Main body is only 40mm x 40mm
Low stress optic mounting system
Positive locking mechanism
Threaded mounting locations on 4 of 6 sides
Extremely stable when exposed to temperature changes – See Below


---
The Locking System employed by the JAID Mirror Mount
Design details of the JAID Mirror Mount
The JAID Mirror Mount has been designed to be as convenient to use as traditional "kinematic" mirror mounts but with all of the features necessary to be successful for inclusion in OEM assemblies. With inherent temperature stability, a robust locking mechanism, flexible mounting options, and pointing without beam shift; the JAID Mirror Mount is a uniquely capable mount.
The mirror substrate is pressed against three locating points on the face of the mirror by a flexure spring. The flexure has been optimized with Finite Element Analysis to provide a predictable force directly opposing the locating points to ensure low distortion and a predictable position.
Performance of the JAID Mirror Mount when exposed to a 20 °C temperature change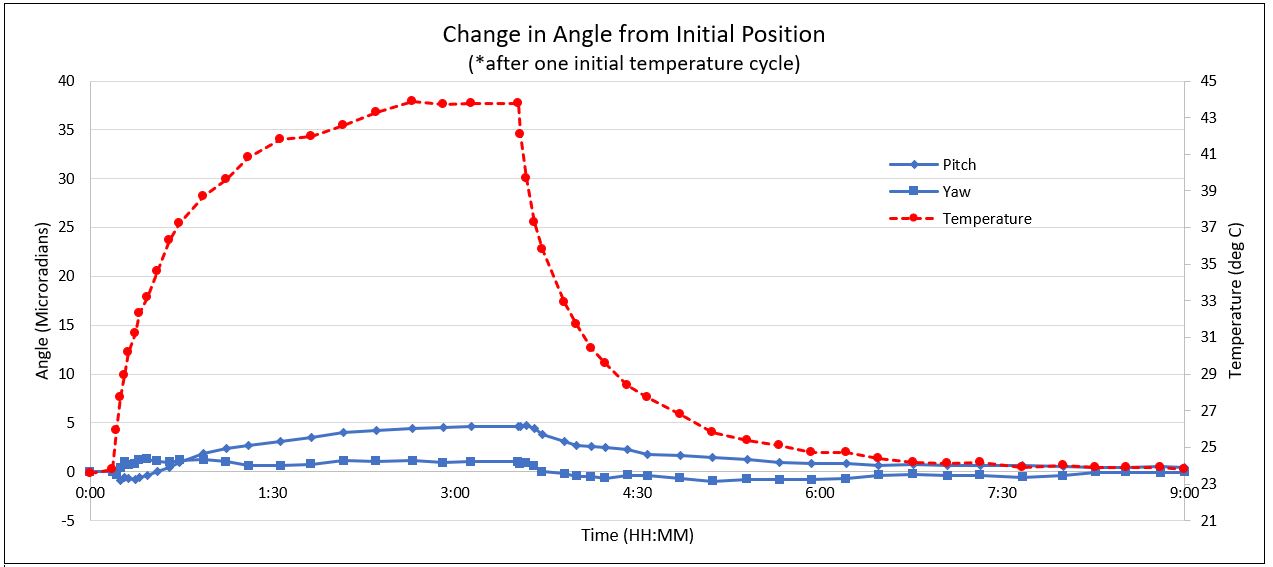 *The ultimate shift in the angle of the mirror surface after the first temperature cycle (occurring after adjustment and locking) was 2 μrad after 6 hours at room temperature and ultimately 1.2 μrad after 12 additional hours. The results of the second exposure to a temperature cycle are shown above. The shift in angle after the second temperature cycle was 0.42 μrad after 6 hours at room temperature and 0.12 μrad after an additional 12 hours.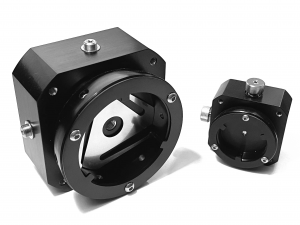 Quantity discounts and OEM customizations are available
For quotes and information please contact us at:
JAID Technologies, Inc. is located in the Greater Rochester NY area
JAID provides Opto-Mechanical engineering expertise and solutions.
More information is contained on the Engineering and Resources tabs.