precision opto-mechanics
for demanding applications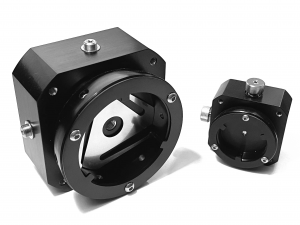 JAID offers both custom and off-the-shelf opto-mechanical solutions.
JAID's flagship product is the optical mount detailed on the Mirror Mount product page. This product is representative of the elements necessary for a successful opto-mechanical design. The mount was designed from a blank sheet of paper to fulfill both a specific set of requirements and a broad range of applications. The result is a mount with the highest known temperature stability on the market, rotation about nominal point of reflection, 4 available mounting surfaces, low deformation mirror retention and a locking mechanism that doesn't rely on the actuators for long term stability.
If you are in search of Engineering Services please click for what we offer.
JAID can complement your existing Engineering resources to add bandwidth and expertise or JAID can provide complete design services for a fixed scope of work. JAID has contributed opto-mechanical expertise for systems used in the defense and security, semiconductor, and life science sectors. JAID's founder and president, Frank DeWitt, is a named inventor on seven patents, two of which were rewarded for work done by JAID.
For general inquiries within North America please contact Frank DeWitt at:
JAID Technologies, Inc. is located in the Greater Rochester NY area